Pregnancy Tracker + Countdown to Baby Due Date
Pregnancy Tracker – Track Your Pregnancy to Childbirth
Are you pregnant? Would you like to know more about pregnancy and baby development? If yes, then this pregnancy tracker can be very helpful to you. Pregnancy Tracker & Baby Development Countdown is a nice app that offers you the chance to track your pregnancy and helps you through its various stages. It offers expert advice regarding baby care and lets you countdown the days to your baby's arrival. You can watch videos of fetal development to see how your baby is growing and also share your stories with other pregnant women in community groups. It even lets you find a name for your baby. This app offers various pregnancy tools to you as well that let you make your pregnancy both easier and memorable.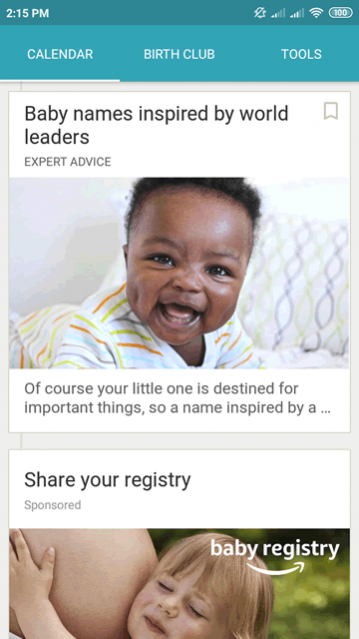 Pregnancy Tracker & Baby Development Countdown has a simple user interface that meshes well with its user-friendly design and layout. You will find this pregnancy tracker to be both simple to use and easy to navigate. However, before you start using this app, you will be asked to sign-in. You can use your email ID to sign-in to the app. The app will also ask you about your due date. You can also calculate your due date using the 'baby due date calculator' included in this app. If you are trying to conceive or are already a mother then you can sign-in after checking the respective boxes shown on the sign-in page. For mothers and women trying to conceive the app offers articles regarding baby care and conception respectively.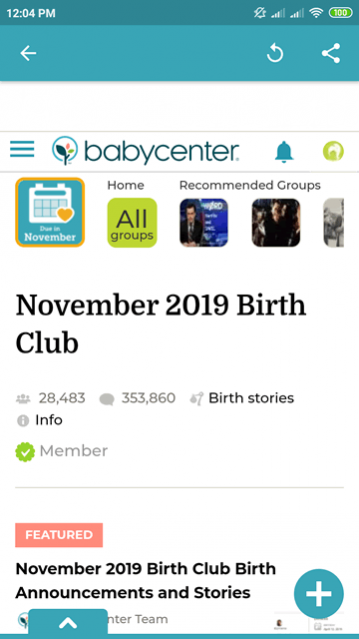 This pregnancy tracker is divided into three main sections. The first one is Calendar while the second and third sections are Birth Club and Tools. In the Calendar section, you will find articles about the pregnancy stage that you are in at that particular time. You can see tips on how to go about your day and what activities to perform during each pregnancy stage. There is a search option provided to look for articles and tips on specific topics. You can rest assured that the tips you are given in these articles are reviewed and verified by doctors and experts. Aside from the informative articles, there are videos available too which provide an up-close look at what is going inside your uterus and how your baby is coming along.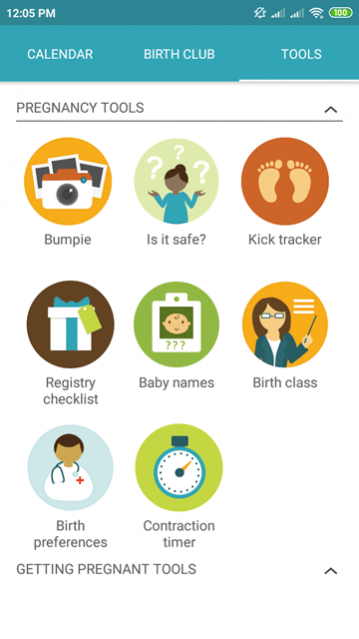 Pregnancy Tracker & Baby Development Countdown lets you join various community groups too. The Birth Club is one such community group in which you can share your stories regarding your pregnancy experiences with other expecting mothers. You can read their ideas on how to prepare for the challenges ahead and also give your tips and advice regarding pregnancy issues. Creating a post in this community group is very easy. You just need to click the + icon located at the bottom-right corner of the screen and pick a title for your post. After that, you can add details about your post and then click 'Create Post' to have it published. The Tools section of this pregnancy tracker offers fun tools like Bumpie, Kick Tracker, Birth Class, and Baby Names.
Features:
Simple user interface
User-friendly design and layout
Find your due date with Baby due date calculator
Plenty of useful advice regarding pregnancy
Read informative articles in the fetal development calendar
View videos to understand how your baby is growing
Various pregnancy tools on offer
Share stories in various community groups
Baby care advice after your baby is born
Suggestions for activities for both mother and child
Baby name finder
Conclusion:
Pregnancy Tracker & Baby Development Countdown is an app that is aimed towards expecting mothers who are looking for information regarding their pregnancy. It enables them to read up on the changes their body is going through and how to deal with them until their baby arrives. It is a pregnancy tracker worth having on your phone if you are pregnant or trying to conceive.
---
Add a review
Tell us your experience with
Pregnancy Tracker + Countdown to Baby Due Date
RELATED PROGRAMS
Our Recommendations
---
---
---
---